Integrative child therapist Hélène in Amstelveen
My name is Hélène Mullers (1967). Married, mother of two children and I know both the joy as the challenges you encounter while raising a child.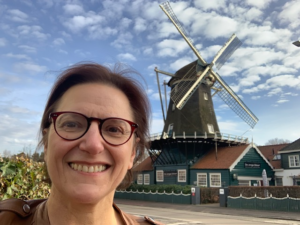 Growing up in France, I moved to the Netherlands after finishing my studies in the field of business. Despite the succes I've experienced in the business world I never forgot the desire I once had. "To work with children".
I decided to follow my dream and in 2005 I started the post HBO education for Integrative Child Therapy, a 4 year study. More information on this study (in dutch):  http://www.academie-psychotherapie.nl
Looking for help for your child? I'd love to be of service to you!  Contact
Child therapist in Amstelveen since 2007
Since 2007 I have helped parents and children in my practice Casa Tutti Frutti in Amstelveen. I provide child therapy, parent coaching and parental advise.
Youth therapist in Amstelveen since 2019
Since 2019 I also provide coaching and therapy for teenagers and young adults.
Further development and learning of new skills are important to me. Every year I take several courses and workshops. For each child I develop a tailor-made therapy. In doing so I use not only my education as a child therapist but also techniques as EMDR, Emotional Freedom Technique (EFT), family constellation, mindfulness, Matrix, transactional analysis and other techniques.
A lot of knowledge on highly gifted children I have obtained from my 2 year education at Novilo (www.novilo.nl).
Things that I have learned, I apply and pass on. It gives me great satisfaction to see children and teenagers blossom and be happy again.
In need of a child or youth therapist in Amstelveen? Please contact me for more information.